Letting God Pen Your Identity & Purpose
Season 5 | Episode 6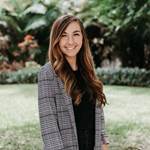 Karissa
Karissa Robinson
March 13, 2023
Is God forming your identity and purpose—or the world? In this episode, Pastors Karissa Robinson, Jenni O'Neal, and Amanda Gonzalez discuss how you can make the daily decision to surrender to who God says you are and what He's called you to do.    
SHOW NOTES
So Good Moments: 
The power of speaking life over every woman in every season.
Breaking free from mom guilt and the temptation to form your identity around motherhood.
Why your value is not defined by what you can do for God or His Kingdom. 
The only standard we should compare ourselves to.      
How to receive the right foundation for marriage before it even begins.
A testimony from one of our So Good listeners…and more! 
Resources:
Share Your Story With Us!
Learn more about Sisterhood
Ask a Question