Boundaries in Relationships
Season 2 | Episode 8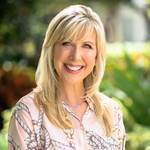 Julie
How do you know when to establish a boundary in a relationship? And how do you communicate that boundary graciously? Pastors Irene & Jimmy Rollins join Pastors Todd & Julie for a rich conversation about how we can protect what's most important by establishing guardrails in our lives and relationships.
SHOW NOTES
So Good Moments: 
How the "three I's" (intentionality, investment, and inspection) can change the dynamic of any relationship. 

The importance of defining your non-negotiables and communicating your needs with vulnerability.  
Why boundaries get confusing for Christians—and what the Bible says about them.  
What it looks like to communicate boundaries in a way that reflects the protection of your values rather than the rejection of the person.   
How being boundary-less led Irene to rock bottom and how rehab helped her take ownership of her life. 
How our emotions serve as an indicator that something in our life needs a guardrail.  
Questions for Reflection: 
How did your perspective on boundaries change after hearing this episode? 
What emotions in your life might be indicators to protect what's most important? 
Pastor Jimmy said, "I can't give until I first guard." What is it that you need to guard before you can give?

Resources:
Book: Boundaries 
Jimmy & Irene's Ministry: Two Equals One