Making God the Gardener of Your Life and Heart
Season 3 | Episode 5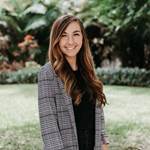 Karissa
Karissa Robinson
August 1, 2022
How do you respond when God cuts something out of your life? In this episode, Amanda Gonzalez and Karissa Robinson unpack Pastor Julie's message, "The Key to a Fruitful Life." You'll learn how to trust God through the pruning process and stay connected to Jesus through every season.
SHOW NOTES
So Good Moments: 
What "cut off" really means, according to the original Greek translation.
Practical resources to study Scripture. 
What it looks like to stay connected to the vine and bear lasting fruit.
Why we can't produce unless we get pruned.    
Why pruning is not punishment and the importance of giving people permission to speak into your life.  
Amanda's favorite summer snack and more!
Discussion Guides:
Digital
Printable

Resources:
Pastor Julie's Message
Bible Project
Blue Letter Bible
Watermelon Salad Recipe
Learn more about Sisterhood
Ask a Question