Having The Strength Not To Fix It
God is more interested in what's going on in us than what's going on around us.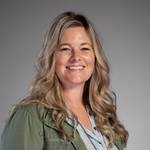 Andrea
Andrea Parsley
March 4, 2020
I've begun to identify this pit in my stomach every time one of my children cries. The older they get, their cries become deeper and harder to solve. How desperately I have this desire to insulate my kids from hurt and struggle. I tend to think if I can fix it all and figure it all out, then I can shield them from anything bad happening. I don't want them to be disappointed, to feel left out, to be embarrassed...so I try to fix it all.
I'm slowly realizing the burden of my kids' emotions...and that, well, this is a burden I am not meant to bear. It may actually not even be in my job description as a mom. I find the sequence of events in Matthew 3:17-4:3 to be so interesting: "This is My Son, whom I love; this is the Apple of My eye; with Him I am well pleased."
The Spirit then led Jesus into the desert to be tempted by the devil. Jesus fasted for 40 days and 40 nights. After this fast, He was, as you can imagine, hungry. But He was also curiously stronger, when the tempter came to Jesus.
The Spirit LED Him...His Son, the Apple of His eye...into the wilderness where He would be alone, hungry, tempted. Why would the Holy Spirit lead Jesus into the wilderness, knowing that it would be a painful time? The answer may be in verse 4:3 (VOICE): "But He was also curiously stronger, when the tempter came to Jesus."
I love the way He leads us through challenging times to make us stronger. If I shield my children from every heartache, we may all miss the point. What is God asking of me as a mother? Is it to keep my children from seeing or feeling any hard thing? Or is it to be with them through it? Is it possible that as I am trying to shield them, I am neglecting to teach them about an aspect of God? How will He be their provider? Their comforter?
If we follow the example of God, as our good Father, we won't aim to spare them from trial, we will walk with them through it. We'll listen, we'll comfort, we'll advise without conspiring to spare them from every negative emotion or circumstance. God is more interested in what is going on in us than what is going on around us. We need to mirror His parenting, SO THAT THEY WILL KNOW THIS ABOUT GOD.
This is hard mothering. This is mothering beyond my emotions and natural desires. This is mothering with wisdom and self-control.