Declaration of Dependence
The weekend doesn't have to end. Keep Talking with this week's guide.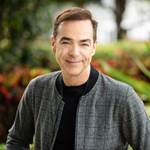 Todd
Start Talking - Find conversation starters for the group or with a friend.
Do you have a favorite 4th of July memory or a favorite way to celebrate?

What does "freedom" mean to you?

Keep Reading - Read the scripture and ask a question to get the group thinking.

Read these scriptures out loud:

Hebrews 11:1
Now faith is confidence in what we hope for and assurance about what we do not see.
Faith is being confident in what we hope for, even if we don't see it with physical eyes yet… David saw the giant Goliath with spiritual eyes and made a proclamation of intent. Have you ever made a declaration like David did? What happened?
Mark 11:23
For assuredly, I say to you, whoever says to this mountain, 'Be removed and be cast into the sea,' and does not doubt in his heart, but believes that those things he says will be done, he will have whatever he says.
It's not just about belief. Notice this verse states "whoever says." The words you speak have power! What kind of declarations are you making over your life? How does knowing your words have power change how you live?

Keep Talking - Choose questions to create openness
1. A Declaration of Independence from your Past

Your past does not define you. Your past is a point of reference, not a place of residence. Read 2 Corinthians 5:17.
Have you been letting your past situation determine your future destination? How can you stop letting where you've been inform where you're going?
2. A Declaration of Independence from Fear

Fear, worry and anxiety have been trying to keep you from stepping out and living out all God has for you. Did you know the most common command in the Bible is "fear not"?
If you listen to fear, you will never walk in faith. Read 2 Timothy 1:7. How can you step out in faith this week, despite the fear you are experiencing?
3. A Declaration of Independence over our Future

What is keeping you from believing God has a good plan for your future? How can you keep the devil from stealing your hope this week?
4. A Declaration of Dependence 

Individualism is actually not a biblical concept. God created us to be interdependent with each other and dependent on Him.
How can you live out Romans 1:12 in community? How can you take time to serve someone this week?
How can you recognize and remind yourself that you are relying on God every single day?

Keep Moving/Going - Commit to a step and live it out this week. 
What step can you take this week to grow one step closer to Jesus? Here are some suggestions:
Choose one of these verses to declare over your life this week: 1 Corinthians 2:9; Jeremiah 29:11; Romans 8:31
Share Pastor Todd's message with someone who needs to hear and invite them to join you for church next week! 

Keep Praying
Prayer requests from everyone at group
Pray that you can depend fully on God despite your past, fear, or unknown future

Keep Praising
"Victory Belongs to Jesus" – Todd Dulaney
"Jesus At The Center" – Israel Houghton
"King of Kings" – Hillsong Worship
 Or check out our "Faith Over Fear" playlist on Spotify and Apple Music.


Keep Up with What's Happening at Christ Fellowship.